Agenda
May 5, 2015
Registration & Breakfast -7:15a - 8:15a
Training/Workshops*- 8:15a - 10:45a
Break - 10:45a - 11:00a

Training/Workshops*- 11:00a - 1:30p
Lunch- 1:30p - 2:30p

Training/Workshops*- 2:30p - 5:00p

Join the Fiesta! Celebrate with Altair! - 5:00p - 8:00p
Join us Tuesday, May 5, 2015 for the Cinco de Mayo Welcome Reception.
At this reception you will have the opportunity to enjoy themed dinner and cocktails while networking comfortably with our exhibiting partners.


---
May 6, 2015
Registration & Breakfast - 7:30a - 8:15a

8:30a - 9:00a
James Scapa, Chairman and Chief Executive Officer, Altair
Altair's Company Vision
9:15a - 10:00a
Mike Whitens, Director, Vehicle and Enterprise Science, Research, Ford Motor Company

Keynote Presentation - Innovation Driven Mobility
Break - 10:00a - 10:30a
10:30a - 11:15a
Franck Mouriaux, General Manager, Structures, RUAG Space
Featured Presentation - Motivations, Opportunities and Challenges of Additive Manufacturing for Space Application
11:15a - 12:30p
James Dagg, CTO, Modeling/Visualization, Altair
Uwe Schramm, CTO, Solvers/Optimization, Altair
Sam Mahalingam, CTO, HPC/Cloud Solutions, Altair
Altair Software Vision: Inspiring the Innovators
Lunch- 12:30p - 1:30p
1:45p - 2:15p
Erik Larson & Linus Fernandes, Altair
Hyperworks Tips & Tricks - Modeling & Visualization
2:15p - 2:35p
Ulrich Jakobus, Altair
What's New - FEKO Introduction
Breakout Sessions** – 2:45p to 3:45p

Performance Optimization
David Bowen, Boeing - Cutting Edge Optimization Methods for the Aerospace Industry
Robert Taylor, Optimal Structures - Teaching Aerospace Design Optimization
Murthy Kowsika, Fiat Chrysler - Optimization of Suspension Characteristics to Improve Handling Response Using HyperStudy
Lightweight Design
Nicolas Kawski, STELIA Aerospace - Topology optimization of nose and forward fuselage
Adrian Chapple, Gestamp - Optimisation based Chassis Design
Julien Chausse, Team Rafale ETS - Design and Optimization of a High Performance C-Class Catamaran with Hyperworks
Access to New Technology - Electromagnetics
Ulrich Jakobus, Altair - Advances in EM Simulations
Dan Aloi, Oakland University - The Use of Simulation (FEKO) to Investigate Antenna Performance on Mobile Platforms
Martin Vogel, Altair - Mitigation of Electromagnetic Interference Problems in Automotive and Aerospace Industries
Lead Time Reduction
David Downing, AMCOR - Creation of Solver decks from CAD geometry
Sundar Gopalan, Altair, on behalf of NuVasive - Solid Hex Meshing the Human Lumbar Spine
Vali Farahani, CalsonicKansei North America - An Automated Head Impact Process Setup for Automobile Instrument Panel Application

Break- 3:45p - 4:10p
Breakout Sessions** – 4:10p to 5:30p
Performance Optimization - Fluid Dynamics
Marc Ratzel, Altair CFD Shape Optimization with HyperWorks
Stuart Walker, Altair, on behalf of Procter & Gamble (P&G)- Detailed CFD analysis of a plate heat-exchanger using HyperWorks
Shi-Ing Chang, CalsonicKansei - CFD Simulation of an Automotive HVAC system
Fabian Mauss, LOGE AB - Lund Combustion Engineering
Access to New Technology - Electromagnetics
Debasish Banerjee, Toyota - Kilohertz Magnetic Field Manipulation for Automotive Applications
CJ Reddy, Altair - Design and Analysis of FSS Radomes
Chenchen Li, University of Texas-Austin - Modeling the Dynamic Radar Signatures of Wind Turbines Using FEKO
CJ Reddy, Altair, on behalf of Eritek - Modeling Cellular/Wi-Fi Transmission Through Patterned Low-E Coated Window Glass
Lead Time Reduction
Cong Wang, General Motors - Enablers in FE Processors for Modularization and Simulation Data Management
Avinash Tadi, Automotive Lighting - Lead time reduction using Altair's packaged solutions for Automotive Lighting
Pei Guo, General Motors - Subsystem Squeak & Rattle Analysis Using Altair's SnRD Director
Steve Walters, Honda OptiStruct improves efficiency in powertrain engineering by partnering with AVL/Excite
Lightweight Design - 3D Printing - Additive Manufacturing
Robert Taylor, Optimal Structures - Structural Component Design Optimization for Additive Manufacture
Jerry Chung, American Axle - Manufacturable Axle Design Directly from Inspire Optimization Result
Issmail Meskin, Valeo - Affordable composite to reduce mass in automotive
Jaideep Bangal, solidThinking - Optimize for Additive Manufacturing/3D Printing
Come Party like MARTY & Rock with DOC!
Join us at the Back to the Future Event on Wednesday, May, 6 from 5:30p - 8:30p.
Travel Back To The Future at the ATC 2015 After Hours Social.
Come see and experience the DeLorean time machine replica! This event will bring together colleagues, presenters, and product experts to gather in a casual and relaxed setting for strolling dinner and cocktails.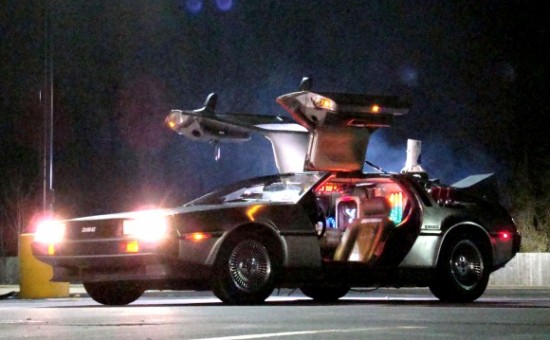 ---
May 7, 2015
Registration & Breakfast -7:30a - 8:30a
8:30a - 9:15a
Kevin Kerrigan, Senior Vice President, Automotive Office, Michigan Economic Development Corporation
Keynote Presentation - Michigan; We run on Brainpower
9:15a - 10:00a
Ken Dudley, Senior Researcher, NASA LaRC
Featured Presentation - A Multifunctional Aerospace Smart Skin Emerges from Computational Models and Physical Experiments
Break - 10:00a - 10:30a
10:30a - 11:15a
Stewart (Denny) Moore, Principal Engineer, Applied Mechanics, General Dynamics, Electric Boat
Featured Presentation - Shipbuilding Success in a Shrinking Defense Budget Era
11:15a - 11:45a
Andrew Barr & Manohara Mariyappa
Hyperworks Tips & Tricks - Solvers
11:45a - 12:15a

Richard Kolk & Peter Darnell, Altair
What's New - VisSim Introduction, Model Based Development with VisSim Embedded

Lunch- 12:15p - 1:15p
Breakout Sessions** – 1:30p to 2:50p
Performance Optimization
Guilherme Carneiro, Fiat - Implementation of Global Platforms in Automotive Industry
Fabio Bressan, Cytec Industries - Composite Material Characterization to design structures for non linear material conditions
Jean Michel Terrier, Altair, on behalf of PSA/Ecole Polytechnique - Fine modeling of automotive component to capture the rupture
Srikar Vallury, CoreTech System (Moldex3D) - Moldex3D and HyperWorks for Effective Design Validation, Optimization of Plastic Parts and Molds
Lightweight Design - Composites
Sascha Pazour, PART Engineering GmBH- Accurate Simulation of Short-Fiber-Reinforced Automotive Parts
Subir Roy, Altair - Forming Simulation of Woven Composite Fibers and its Influence on Crash Performance
Frank Abdi, AlphaStar - GENOA and Hyperwork integrated Advance Composite Product
Greg Harte, Altair- Composite Optimization Manufacturing Process Link for Ply Book Output
Lead Time Reduction
Youn Park, Ford Motor Co. - Pedestrian Impact Simulation Process with HyperWorks
Scott Janowiak, Mahle - Lead time reduction using Automatic Reporting Director (ARD) for MAHLE
Mark Corritore, CalsonicKansei North America - An Automated Rigidity Cylinder Setup for Automotive Cockpit Module Rigidity Analysis
James Smith, F-Tech - Automated Reporting Solution
Break - 2:50p - 3:00p
Breakout Sessions** – 3:00p to 4:20p
Performance Optimization
Edward Abramoski, Ford Motor Co. - Passenger Side Occupant Safety Simulation using RADIOSS
Pardeep Jindal, Ford- Driver Occupant Safety Simulation using RADIOSS
Francis Arnaudeau, Altair- Latest HyperWorks Developments for Automotive Safety Analysis
Pak Lui, HPC Advisory Council - Performance Evaluation, Scalability Analysis, and Optimization Tuning of Altair HyperWorks' Solvers on a Modern HPC Compute Cluster
Access to New Technology
Jeff Mentley, HBM nCode - Fatigue Life from Sine-on-Random Excitation
Arthur Fairfull, Granta Design - Materials Gateway for HyperMesh – Enabling CAE to build on enterprise materials knowledge
Kyung Choi, Ramdo Solutions - Development of Reliability Analysis and Multidisciplinary Design Optimization (RAMDO) Software
Neil Bishop, CAEfatigue Limited - Time v Frequency Domain Analysis For Large Automotive Systems Using CAEfatigue in Combination with Optistruct and Hyperview
Lead Time Reduction - Vertical Applications
Diwakar Krishnaiah Jeeda, General Motors-Cranktrain Components CAE Analysis automation Using Simlab
Jeff Skinner, Thumb Tool & Engineering-

Ensuring Extrusion Product Quality at Die Design Stage

Hari Palaniswamy, Altair-

Hot Stamping Process Simulation Using Integrated Structural and CFD Analyses
* - Training Sessions:
Each session is in a different room and will take place during the entire time listed.
** - Breakout Sessions:
All presentations listed under that topic will take place in one room during the time listed.